Monitoring Agents Follow
What is Monitoring Agent?
The Monitoring Manager allows you to create, run and monitor a specific business process as a "test agents at a predefined time and interval." Test agents can be scheduled to periodically test your services by running predefined "test cases" or "test groups" in constant intervals and determining if the tests were run successfully. This tool logs the data from these tests for later review including the time it took to run the test. In addition, alerts can be set to get an email if a test does not pass successfully, so the administrator can check on the system to allow proactive analysis of potential system errors.

Test Name

The Test Case or Test Group this agent executes

Execution Interval

Time interval between subsequent executions

Status

Active or Paused

Mail Recipient

Email address that will be notified of failures

Mail Title

Email subject that will be sent to the mail recipient

Created By

The user who created the test agent

Actions

Edit: edit the execution interval, mail recipient and mail title of the test agent

Pause: pause the test agent (if it is already running)

Reset: clear the existing logs and reset the monitoring

For more details on Monitoring Agent, click here to read our AuraSense User Guide.
Creating a Test Agent
Click on the "Add" button , located at the top of the Test Agents table.
A new editable line will be added at the bottom of the table.
A popup dialog will be displayed, asking to choose a Test Case / Test Group: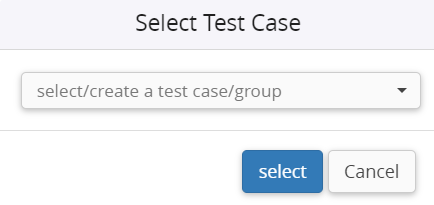 Make your selection, and click "Select".
A new Agent will be created and added to the table.
The agent will be initialized with default configuration – change it by clicking Edit

.


The Test Agent starts automatically. The results will be updated in the chart and logs bellow.
You may switch to the results of other agent by clicking on its name in the Test Agents table.
Monitor Chart
The monitor chart displays the response time for each run. Each red line means that there was an error and an email was sent to the specified address.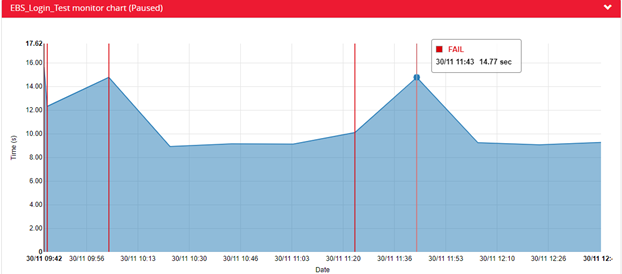 Logs
The logs table includes the response time, success/failure indication (including fail reason) - for each Timestamp. User can search for the Fail Reason.

Advanced Details
Calculates the average max and min response time.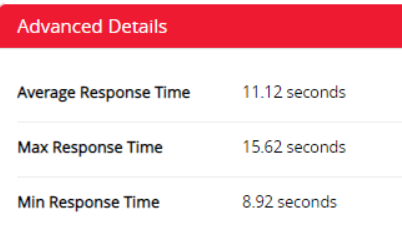 Mail notification options
You can change the mail notification to receive on every time the test status fails or when test status changes from success to failure or vice versa.
Go to Admin -> System Properties: Look for TEST_AGENT_MAIL_FREQUENCY.
The default is ON_FAIL (email is sent on every failure). But you can change to ON_CHANGE (email is sent when test status changes from success to failure or vice versa)